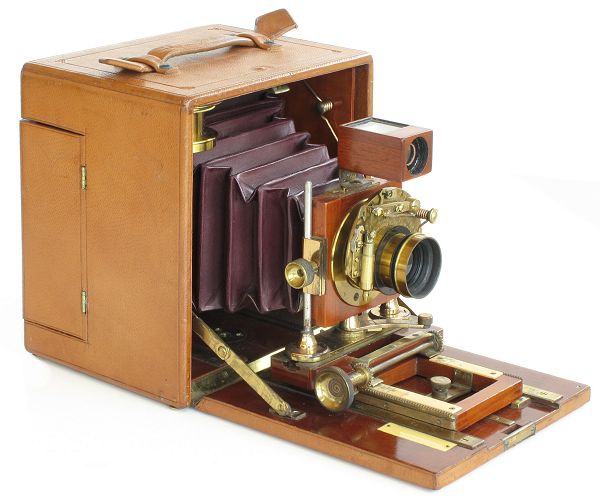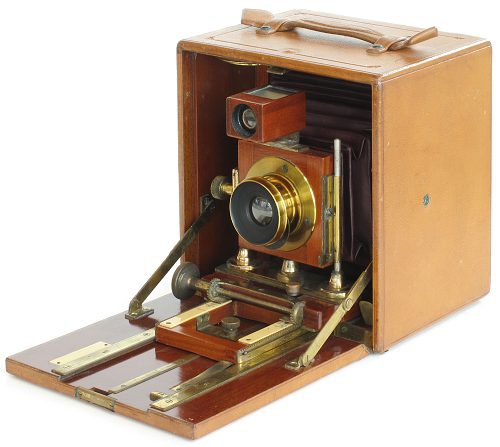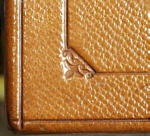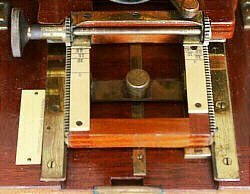 The only known version of a 4x5 Henry Clay Regular Camera.
Includes a small Prosch Triplex 00 shutter and Beck wide angle lens.

Henry Clay Cameras are rare items most often found in the 5 x 7 inch format. This Henry Clay Regular Camera is a fine example of the only known 4 x 5 inch format.

Similar to the earlier The Henry Clay Camera, this 'Regular' is constructed of highly polished mahogany with brass trim, has the distinctive reflex finder mounted above the lens on the front standard, and incorporates all the well known swings, tilts and shifts.

Unlike the 5 x 7 inch model also shown on this website, this "Regular" features a hinged drop bed design that replaced the earlier sliding bed version in 1892. (Refer to "Assessment Of The Sliding Drop-Bed Design" link at the bottom of this page).

A thick, fine-quality brown leather covers this "Regular"; it is very unusual for a folding camera and more than likley a custom order. As a note, it was common for the American Optical Company to accept custom orders in addition to their standard camera configurations.

Part of the richness of collecting comes from obtaining accessories that may have been included with the camera at the time of its purchase. Short of having the actual images the new owner may have taken, accessories provide an insight as to how the camera was likely used.


The owner of this "Regular" may have had an interest in taking a variety of picture styles including landscapes, street scenes, and action. For landscape and architectural work, the camera includes a Beck "Autograph" wide angle lens. When not in use, the wide angle lens is screwed into a lens ring mounted in the upper left corner of the inner body.

Also included is a second coiled brass spring for the Prosch Triplex Shutter -- seen on the right inner body wall. The extra spring is made of a heavier gage wire to tension the shutter for faster shutter speeds, which would be ideal for action pictures. Even though Prosch made a specialized shutter for sports called the "Athlete," a second shutter spring is more convenient to carry than a second shutter/lens combination.

The Henry Clay Regular Camera, c.1896
American Optical Co., Scovill & Adams Co., props, NY.

To accommodate the shorter lens, a second focusing scale was attached to the right focusing rail.

Henry Clay Regular shown with the Beck 4" Wide Angle lens mounted; uses the scale on the right focusing rail. A flat brass spring located on the bed serves as a stop to correctly position the focusing rails for use with the wide angle lens.

Copyright ©2003 by Rob Niederman - ALL RIGHTS RESERVED

Beautiful fleur-de-lis embossing appears in the leather on top of the camera.