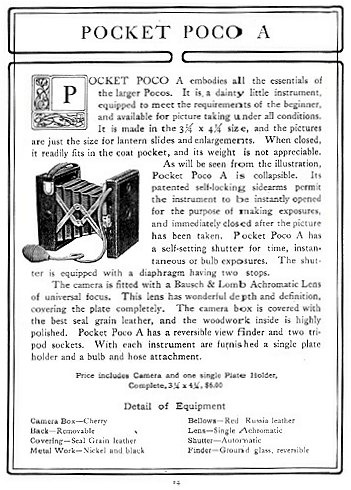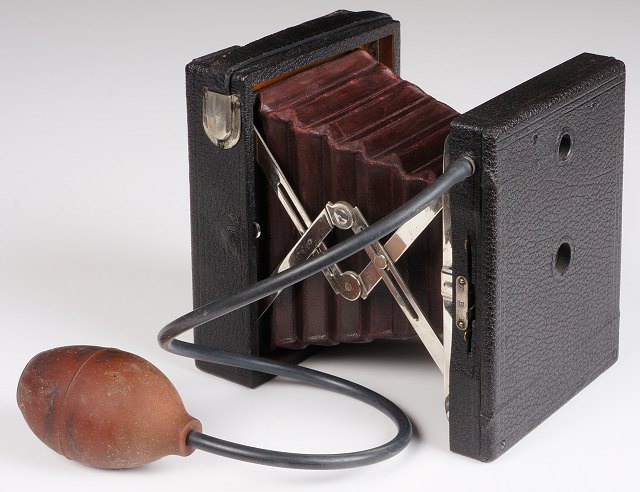 After a three year absence, Rochester Optical and Camera Company resurrected the Pocket Monroe A bedless body pattern in 1903 as the 3-1/4 x 4-1/4 inch Pocket Poco A. The body was made of cherry covered in seal grain leather. It was marketed to beginners at a price of $6.00 (equivalent to $115 in year 2000 currency!) and did not appear to be as successful as planned because it was not included in the 1904 Poco catalogue.

The continuation of a particular camera after its company merges with another is not unusual; especially if the camera was popular. What is unusual, is when a discontinued camera reappears several years after a completed merger. This seems to be the case with the Pocket Poco A.

The Pocket Poco A was only made for a single year (1903) and has the same self-casing design as earlier cameras made by the Monroe Camera Company (refer to Monroe Vest Pocket Camera) from 1897 to 1899.

In 1899, Monroe and four other companies merged to form the Rochester Optical and Camera Company. Althought the popular line of Poco bed cameras continued, bedless versions no longer appeared in catalogues from 1900 to 1902 under the Rochester name.

Pocket Poco A, 1903
Rochester Optical and Camera Company. Rochester, NY.

Copyright ©2001 by Rob Niederman - ALL RIGHTS RESERVED

1903 catalogue reference.