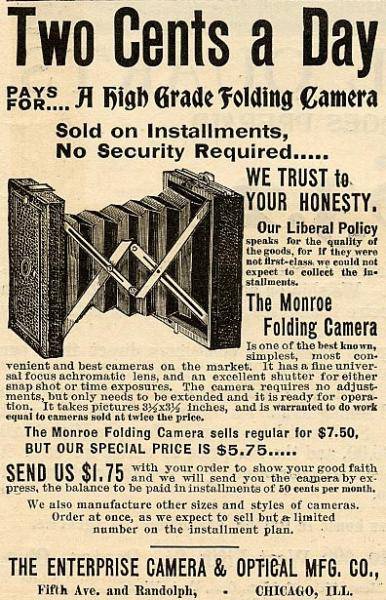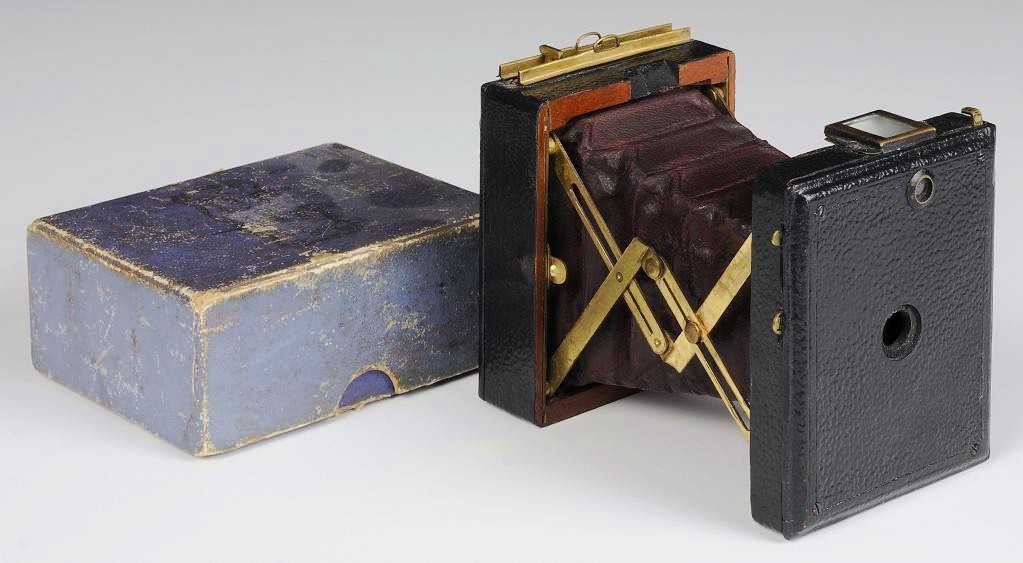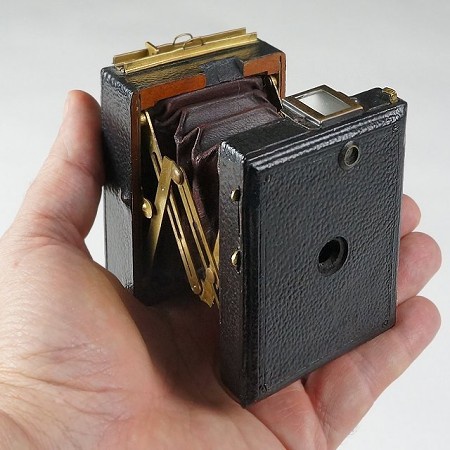 I often comment how cute small wooden cameras are and here is a fine example of a pre-1900 pocketable camera predating today's little point-and-shoot digital cameras. Shown is a tiny, (quite scarce) strut-style, bellows folding camera made by the Monroe Camera Company of Rochester, NY. As you can see, it fits easily in hand and sized just right for a vest pocket (as intended).

The Monroe Camera Company was founded in 1897 and is best known for folding cameras. After barely three years of operations, Monroe merged with four other companies in 1899 to form the Rochester Optical and Camera Company.

First introduced in 1897, the Vest Pocket Monroe (or No.1 as it is sometimes called) represents one of the earliest "vest-pocket" style cameras. It is a very small, collapsible bellows camera taking 2 x 2½ inch images on glass plates or sheet films. Models made in 1897 had nickel struts and rotating diaphragms. In 1898, the struts were changed to brass and the rotating diaphragm design dropped. Larger versions were also made.

This particular model is the smallest and rarest of the series selling for $5 (about $137 in year 2013 currency) and measuring 2¾" wide x 3½" high x 4½" long when fully open. The camera has a red leather bellows, black leather body and tiny brass double plateholder. However it is the bedless, strut design that sets this camera apart from other self-casing, folding cameras of the time.

The unusual bedless design with scissors style struts and thin bellows helps the camera fold down to a svelte 1½" thin including the double plate holder! But due to the shearing action of the struts when opening and closing the camera, almost all examples of these Monroe cameras are found with torn or much worn bellows.

Bedless Monroe cameras were discontinued after the 1899 merger, but in an unusual move, the Rochester Camera and Optical Company reintroduced a single model in 1903 known as the Pocket Poco A.


Note:
For additional information about the Monroe Camera Company and Monroe Cameras, look for a comprehensive article entitled "Two Styles of Monroe Cameras" by Ralph London appearing in the CAPSule, December 2004, Volume 04, Number 4.

Copyright ©2005 - 2014 by Rob Niederman - ALL RIGHTS RESERVED

Vest Pocket Monroe, c.1898
Monroe Camera Company. Rochester, NY.

Dealer reference advertising the Pocket Monroe Camera. The smallest format was also sold as a "Vest Pocket" size.