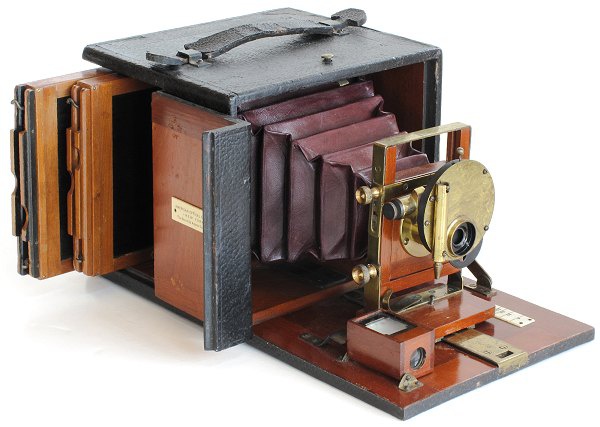 Henry Clay 2d with Mathein (attributed) shutter.
Extended body can hold three double-sided plateholders.

Scovill's Henry Clay 2nd was the least expensive camera in the landmark Henry Clay Series and advertised under three names:

• Henry Clay 2d
• Henry Clay Second
• Scovill's Henry Clay 2nd

Regardless of the advertised name, there doesn't appear to be any model variations.

Although offered only in a 4x5 inch format with a simple Wale shutter, buyers had a choice of obtaining a simple lens or a higher quality "double combination" lens.

This particular camera has the inexpensive lens and sold for $15 in 1896. A model with the "double combination" lens sold for $20. (About $307 or $409 in year 2000 currency).

In contrast to The Henry Clay Camera, American Optical's flagship self-casing camera, the 2d was simpler and positioned to appeal to a low-end amateur market. A review appearing in the 1896 issue of the
American Annual Of Photography and Photographic Times Almanac
notes how the camera was created in response to a "demand for cheaper instruments."

Scovill's Henry Clay 2nd, c.1896-97
American Optical Co., Scovill & Adams Co., props, NY.

Copyright ©2003 by Rob Niederman - ALL RIGHTS RESERVED

To supply the demand for cheaper instruments the series of Henry Clay Cameras, manufactured by the same firm, has also been extended. The "Henry Clay Second" is not unlike the popular favorite, "The Henry Clay," and while its finish may not be so attractive, yet one must consider the fact that it is sold for the same price as the new waterbury camera, i.e., $15. It is fitted with all the latest devices, achromatic lens, conical bellows, time and instantaneous shutter with pneumatic release, rotary diaphragms, and rising and swinging front. The Scovill & Adams Co. certainly deserve considerable praise for their enterprise. To manufacture such instruments as these at a price placing them within reach of the smallest wage-earner requires erection of special and costly machinery.

Research indicates that the 2d was offered for about two years. Its short life span and rarity are good indicators that the American Optical Company was not successful in positioning the Henry Clay camera series to compete with other low cost self-casing plate cameras.