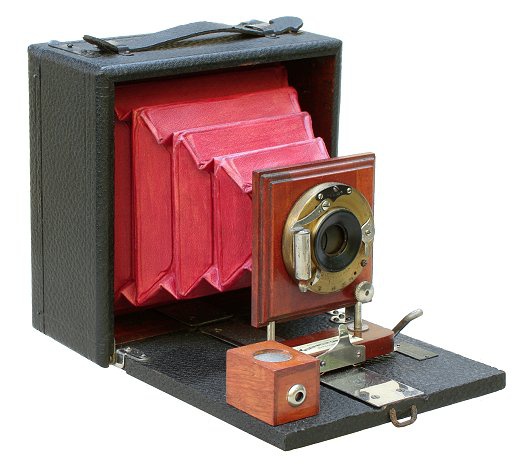 Copyright ©2008 - 2012 by Rob Niederman - ALL RIGHTS RESERVED

A Crowded Market
As the end of the 1890s approached, the market, already saturated with inexpensive folding plate (self-casing) cameras, was shifting to cheaper box and rollfilm cameras. While an air of anticipation maintained that the trend would continue, new models of self- casing cameras still found their way into the hands of eager "advanced" amateurs.


Room for more?
Terrence D. Wilkin, Charles E. Welsh, and Edward P. Wilkin must have believed so. On February 27, 1900, papers of intent forming the Wilkin-Welsh Camera Company in Syracuse, New York were signed. The fledgling company was launched with $10,000 in capital and 100 shares of stock distributed to its three directors. According to the filing, the purpose of the company was, "The manufacture of Cameras and Photographic Apparatus, and Photographic and other specialties of various kinds."

While small companies trying to carve out a niche were common at the time, the Wilkin-Welsh Camera Company is noteworthy for its incredible obscurity and business brevity. Unlike many of its competitors, the company was apparently overlooked as a desirable merger or acquisition candidate.

Onondaga No.6, c.1900-01
Wilkin-Welsh Camera Company. Syracuse, NY.

Who Was Behind Wilkin-Welsh?
Listings show Wilkin-Welsh at 307 N. State Street in 1900 and 134 S. Geddes Street in 1901, with no address listed in 1902. In its two (or less) brief years of existence, with little or no marketing or advertising, a small variety of box and folding plate cameras were produced. Other than the few examples found in collections, a lack of reference material makes it difficult to know more about the cameras and "specialties of various kinds."

Two models of basically the same folding plate camera are listed in a 1901 catalogue; the
Onondaga No. 6
(with an externally mounted shutter) and the
Onondaga No. 5
(the same camera with a wood encased shutter). Construction was inexpensive. A leatherette covering was used instead of pebbled leather. Some cameras had leatherette on the drop bed while others had polished wood. In all cases, the Ononadaga Nos. 5 & 6 had reversing backs and bed mounted reflex finders - the No.6 had a round viewing port on the reflex finder.

Ironically, almost more is known about Terrence Wilkin than the cameras. It is also interesting to note that Terrence and Edward were father and son holding a 70% majority stock ownership in the company (T. Wilkin, 40 shares; C. Welsh, 30 shares; E. Wilkin, 30 shares).

Dan Smith, Local History/Genealogy - Onondaga County Public Library, kindly provided additional information about Terence and Edward Wilkin. Born in Rochester in 1847, Terence served in a Union cavalry unit as a teenager, and spent eight months in Andersonville. He was active in civic affairs upon coming to Syracuse and served as a city alderman in the 1880s. In 1899 Terence purchased one of the first automobiles in Syracuse and served as the first president of the local automobile club. Terence died suddenly at age 56 of a stroke.

Edward Wilkin is listed in the late 1890s as employed by the R.G Dun & Company, as an early business magazine publisher and analyst. The 1900 census lists Wilkin as a "dealer in cameras" and the 1902 directory shows him relocating to Utica - this would also be a good indicator that the Wilkin-Welsh Camera Company had probably dissolved. The 1910 census lists Edward as a commercial Traveler dealing in guns and on the 1920 census as simply a traveling salesman.
Successor to the Niagara Camera Company?
Details of the Wilkin-Welsh Camera Company and its products are still unknown, and there is the possibility of a connection to the Niagara Camera Company of Buffalo, New York. Historian Eaton Lothrop Jr. owns several Wilkin-Welsh and Niagara box cameras and commented that one particular Niagara camera was identical in all ways to a Wilkin-Welsh model. He also noted that the same camera illustration appeared, in one instance, on boxes from both companies.

Eaton also speculated the possibility of a timeline connection, without any overlap, between the two companies. The Niagara Camera Company appears to have operated in Buffalo only in 1899 while the Wilkin-Welsh Camera Company apparently operated in Syracuse in the years 1900 - 1901.

Did Niagara go broke and Wilkin-Welsh buy out the tools, etc? Were the Wilkin-Welsh cameras still produced in Buffalo, or were they actually made in Syracuse? (The papers of incorporation list Syracuse as the "principal business office.") Eaton speculated that the Erie Canal would have provided a nice transportation connection, either to move the tools and left over stock from Buffalo to Syracuse or to move finished cameras from Buffalo to Syracuse.

Maybe answers will disclose themselves over time. Otherwise, the Wilkin-Welsh folding plate camera represents an interesting, albeit, a short-lived historical side-bar in an already crowded market.


10 June 2012 Update:
The correct camera name is now referenced as
Onondaga No.6
. Special thanks to Tom Kowach at Historic Camera for the reference information and scan of the catalogue listing.

Onondaga No.6 Reversible Back, 4" x 5" format Rauber and Wollensak Shutter with meniscus lens.