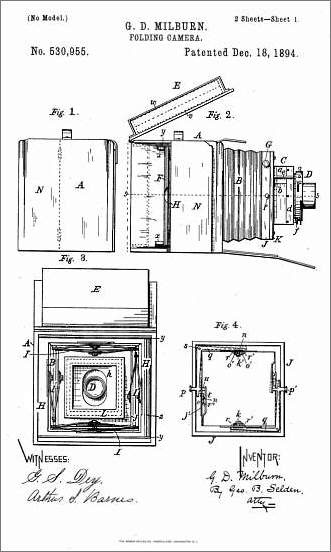 Copyright ©2007 by Rob Niederman - ALL RIGHTS RESERVED

There are few references for the Korona Hand Camera. In addition to the references found in two 1894 issues of the American Amateur Photographer, the only other reference I have found is Patent No. 530,995 for a folding camera filed by Gustav Milburn on December 18, 1894.

What's interesting is that the patent was filed two months after the October 1894 camera announcement. However, it is not clear whether Milburn's first camera was actually available in 1894.

The camera shown in this patent has a slightly different design than the production camera. Although the actual camera does have the same fine focusing box as shown in the patent, the illustratration has "lazy tong" struts to support the lensboard.

Otherwise both the real camera and patent camera have the "piggy-back" style plateholder brackets mounted inside the fold-up back.

The Korona Hand Camera, 1895
1894 Camera Patent