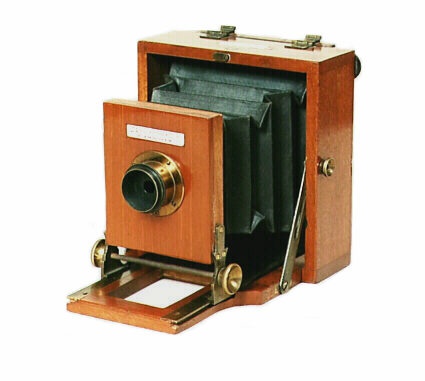 Copyright ©2002 by Rob Niederman - ALL RIGHTS RESERVED

Le Merveilleux was Lancaster's lowest priced series of cameras for the amateur. The camera itself is a primitive folding view design constructed of polished mahogany with brass trim. A simple meniscus achromatic lens, standard for the Le Merveilleux, was mounted in a brass tube that slides forwards and backwards for focusing.

This example is the tiny 1/4 plate model exhibiting an understated yet elegant appearance. Lancaster offered the camera in plate sizes ranging from 1/4 through 12" x 10" as noted in a reference entitled "
How To Be A Successful Amateur Photographer
".

1888 Patent "Le Merveilleux" Camera
J. Lancaster & Son, Birmingham, England