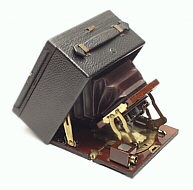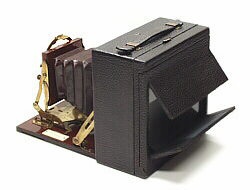 Copyright ©2001 by Rob Niederman - ALL RIGHTS RESERVED

The Alta Automatic camera is an usual and scarce variation of the traditional self-casing, folding-bellows camera. Introduced in 1898 by the short lived American company Reichenbach, Morey & Will (1896 - 1900), the Alta Automatic gets its name from a self-erecting, brass front standard. This is a rarely found feature in self-casing cameras.

The lens is attached to the lens board using a locking breach mount system, similar to the modern Canon SLRs. Turning the nickel plated ring releases the lens and shutter from its mount. The unmarked Rapid Rectilinear lens is mounted on a R.M.&W. Co. shutter.

Records about the Alta Automatic are hard to find but I believe the camera was only available for a year or two. It is constructed of polished mahogany with red leather bellows and brass hardware.

Alta Automatic, c.1898
Reichenbach, Morey & Will. Rochester, NY.

Left:
Detail showing the operation of the self-erecting brass front standard.


Right:
Another unique feature of the Alta Automatic is the use of a "barn-door" style viewing hood. A small brass release locks the doors shut.