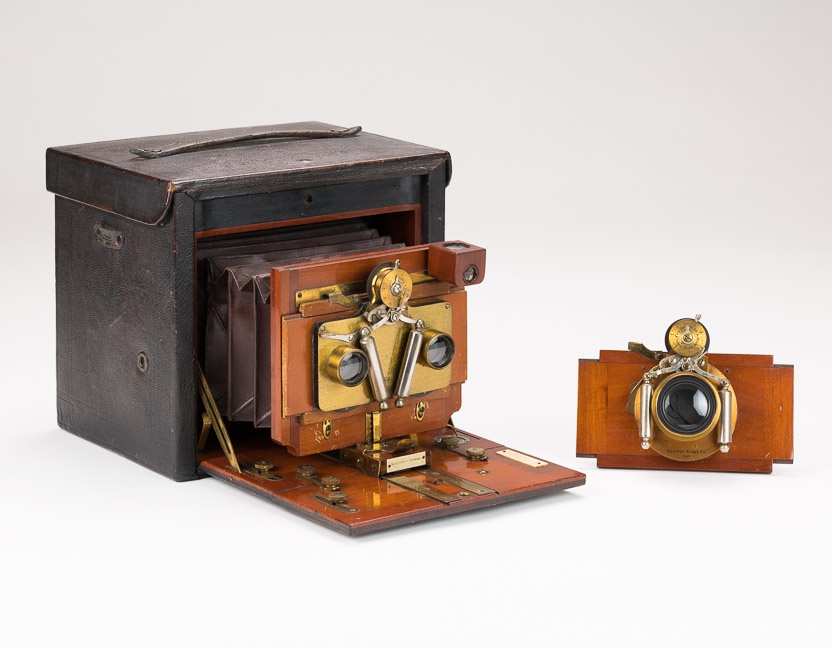 Copyright ©2001 - 2019 by Rob Niederman - ALL RIGHTS RESERVED

There are only a few Kodak cameras I desire and a nice example of a No.5 Folding Kodak Stereo has been on my "most wanted" list for over two decades. They are incredibly rare and the few in collections are never for sale.

The Folding Kodak series were first introduced in 1890 by George Eastman. The innovative self-casing design was the first to garner wide public acceptance. Throughout the 1890s, other makers created folding cameras similar to the Folding Kodak series. But it is this "satchel" body form that is the most distinctive of all. (No.4 Folding Kodaks in my collection can be seen here.)

The No.5 model made 7 x 5 inch images on glass plates or 54 exposures (same format) on roll film. Regardless of the format size, most are found in fair-to-poor condition. The example shown here is in excellent condition. It includes both single and stereo lenses as well as its original roll film holder (inside the body) with a serial number that matches the body. Additionally, the often torn leather hinge for the body lid is intact.

The stereo model was introduced in 1893 and it is the only year in which focusing is done using levers instead of the more traditional rack & pinion focusing knob design. Two separate levers are built into drop bed; one for a single lens and another (at the rear of the drop bed) for the stereo lens set.

In use, the levers are somewhat clumsy to operate and this might have been the reason the cameras were redesigned in 1894 (and onward) with geared focusing knobs.
As a note, later versions with rack & pinion focusing appear in Kodak's consumer catalogues as "Improved."
(FWIW, nearly all non-Kodak references - internet and otherwise - incorrectly identify "Improved" versions.)

Overall, the No.5 Folding Kodak is a large, handsome camera selling in 1893 with a single lens for $75. Adding the stereo lens/shutter set increased the price another $18.50. Adjusting for inflation, the 2018 total price is roughly $2,600.

No.5 Folding Kodak Stereo, 1893
Eastman Kodak Company. Rochester, NY.

No.5 Folding Kodak Stereo (satchel style) with stereo and single lens sets.
This camera also includes its matching (s/n) rollfilm holder.