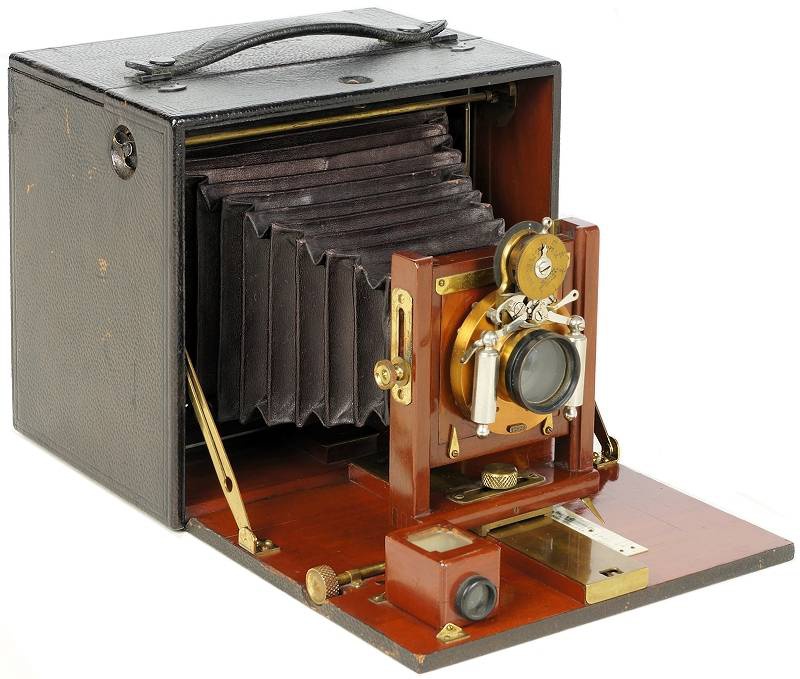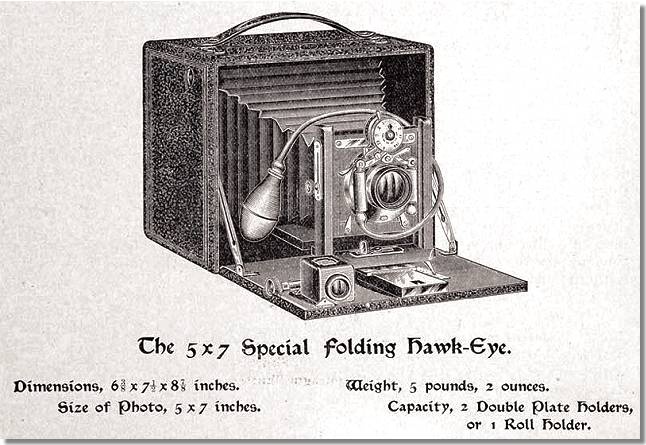 Special Folding Hawk-eye cameras were offered
in only two sizes; 4 x 5 inch and 5 x 7 inch formats.

For those who desire a first-class folding camera (1896 reference)
Thomas Blair was known for unusual and overly complex field camera designs and very few were the self-casing body pattern; a unique American creation. Although it was Kodak that made the self-casing design popular, the 1890s could be characterized as a decade of very popular leather bodied, red bellows cameras made by numerous American and European makers.

Thomas Blair's first self-casing cameras were the 1892 Folding Hawk-Eyes No.1 and No.2. By 1896, Blair's interpretation of the self-casing camera evolved into something more along the lines of other makers' cameras with the introduction of his Special Folding Hawk-eye models, yet it still retained some unique 'Blair' features such as a top loading plateholder design (whereas most other companies opted to build side loading bodies).

For some reason, this particular camera is extremely rare, which baffles me given public acceptance of the self-casing, red bellows style and Blair's reputation. The Blair Camera Company was a successful operation but it was their roll film cameras from the late 1890s to early 1900s that later dominated the company's offerings.

In 1896, the 5x7 inch Blair Special Folding Hawk-eye sold for $50 with the higher grade Bausch & Lomb iris diaphragm shutter shown here. That's about $1,360 in 2012 currency - a very expensive camera for the time!

The 5 x 7 Special Folding Hawk-eye, c.1898
Blair Camera Company, Boston, Mass.

Copyright © 2013 by Rob Niederman - ALL RIGHTS RESERVED

Blair 1898 reference.