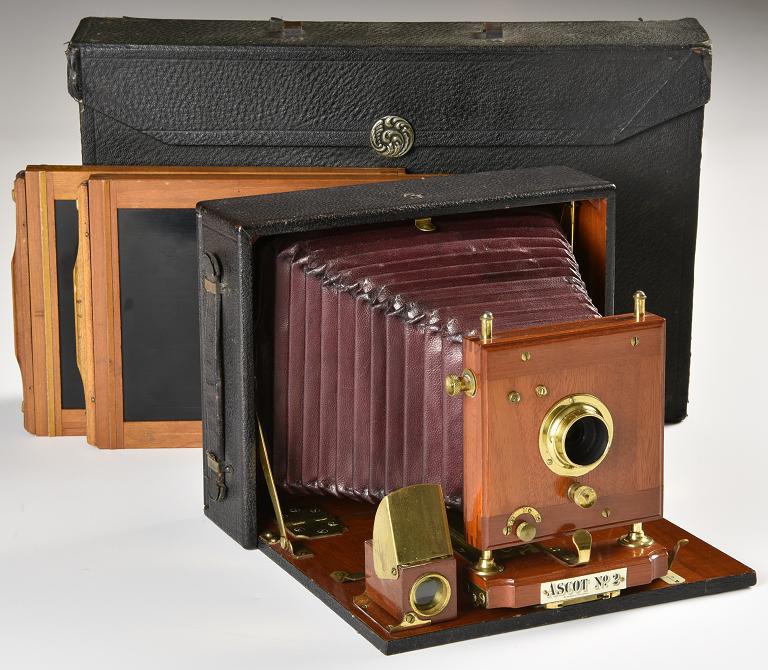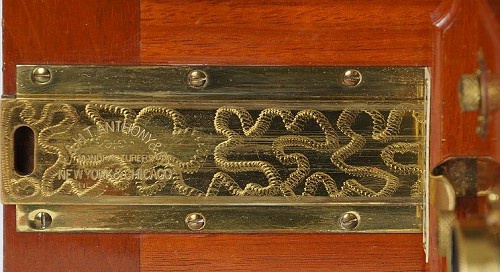 "This new and elegant line of cameras comprises the best types of bicycle and folding cameras." (1899 reference)
From mid-1899 to 1900 E. & H.T. Anthony created a series of folding cameras under the name "Ascot." All were made of leather covered mahogany bodies with brass hardware. Of the twenty models offered, only four had internally mounted shutters.

The Ascot cycle models were made for bicyclists. These had thin bodies and side-by-side cases that typically mounted under a bicycle's top tube. Each cycle camera had a matching folding version with a deeper body to house plate holders.

The $16.00 Ascot Cycle No.2 outfit shown here included the camera, one double holder, and carrying case to hold three holders. While Anthony as a maker was not known for elegant construction, the company for some reason decided to embellish the brass focusing rail with decorative machined markings.

But what is surprising is that Anthony made twenty Ascot models in barely over a year and then pulled the plug by selling the series to a group of four companies that merged to form the Rochester Optical and Camera Company.

Ascot Cycle No.2, c.1899
E. & H.T. Anthony & Company, NY.

Copyright © 2015 by Rob Niederman - ALL RIGHTS RESERVED